Accueil » Le Moulin » Stages papier et reliure

Stage 2009 de fabrication de papier main et reliure papier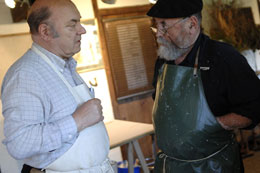 Stage organisé par le MOULIN DU VERGER et CONSERVATION BY DESIGN

PAPIER RELIURE avec CHRISTOPHER CLARKSON
PAPIER MAIN avec JACQUES BREJOUX

Now in its 3nd Year - explore handmade cover papermaking with Jacques Brejoux & paper covered binding with Christopher Clarkson - a workshop to be held in the 16th century Moulin Du Verger Paper Mill in Puymoyen, near Angoulême in the Charente (Cognac) region of France.

Dates
Monday 14th September to Friday 18th September 2009 - 5 days.


Du Lundi 14 septembre au vendredi 18 septembre 2009 - 5 jours.


No. of Participants : Eight (8)
Nombre de places : Huit (8)
Language : The course will be conducted in English.
Langue : Le cours sera conduit en anglais.
To find out more / Pour en savoir plus :